LESSON #2: See yourself as you really are (WAKE UP CALL)
Tuesday, May 14, 2013
I am now convinced that I have a special ability to see myself (in my mind) as a lot smaller than I really am. People have always told me that it is important to love yourself and to feel good about yourself but I believe that I am overdoing it (in my mind). I realize that a lot of overweight people don't feel good about themselves and may even think that they are larger than they really are.
This is not my problem.
I have been Sparking (if not sparingly Sparking) seriously since February of this year (2013) and have lost 10 pounds, which was enough to take me out of a size 26. Even 24s are getting baggy and I have a size 22 skirt that I can easily wear. I feel GREAT about this. But, despite this progress I had a WAKE UP CALL yesterday. I had a picture taken of myself at work (school) and I look considerably fatter than I think I look. Here is the offensive picture: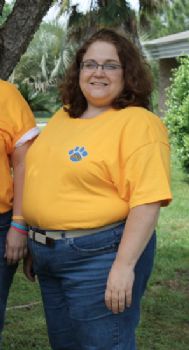 Don't worry, I'll be fine. No sympathy needed. Seeing this photo just inspired me to stay on track and loose some weight!
I am not going to shy away from the camera, either. I'm not going to make every shot a glamor shot. I am going to seek out some photos that show exactly what I look like...no matter how unflattering. You gotta have some before pictures, in order to enjoy the "after".