Quote of the Day: "The difference between the impossible and the possible lies in your determination!" (Denise Austin)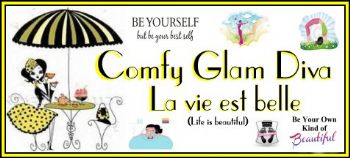 Whew! We're having a heatwave, it was hot, hot, hot today! We're in the 80's all the windows opened, no warm jammies for bed tonight. We're heading for a record tomorrow at 86. It looks like the snow and that super cold weather might be done for Denver, not the mountains though.
I was thinking earlier today what kind of blog to write and then it hit me, I haven't really chatted with you all in awhile. The blogs have all been about food, beauty movies, but no real chat about things. Today let's just catch up on things.
Yesterday was Mother's Day and I hope you all had a wonderful day with your love ones. We went flower shopping at a couple of nurseries and I did find some flowers to put in pots. I also got some pots to plant some herbs. We had a little BBQ, just the two of us. It was a nice day all around.
On Saturday the plan was to go over to my Grandparents house and then out to dinner with the whole family to celebrate Mother's Day, but we didn't go. All week we've had thunderstorms with lightening in the afternoon and Bella freaks out a lot. So I was thinking of what to do for Bella and then Dean told me that he was on call for Saturday. So I asked if it was possible for everyone to meet over here and go out to eat at the same restaurant, but the one by our house. My parents, some cousins and an Aunt and Uncle all agreed, but my other Aunt and Uncle shot the whole thing down and for some reasons everyone follows what they say. So, my Mom called to tell me that it was a no go. Plus my Mom told me that my Aunt said, I should just come because it's not like Dean is family. Let me tell you how pissed I'm about that because Dean has been a part of the family longer than any of my cousins husbands. They have known him since I was 15. Yes, we broke up for around a three year period, but other than that he has been here. Let's just say that I decided right then and there I'm not going. My Mom understood. Everyone went, but us and when my Grandma asked where we were my Mom told her that Dean was on call and Bella freaks out with he thunderstorms and you know what she said? Why didn't we all go over to their house instead. Yep, my Aunt didn't even ask her what they wanted to do.
I must say that I am hurt by the way my one Aunt and Uncle reacted to everything. I was really mad on Friday afternoon about it, but I did not let it get me down on the weekend. We had a great weekend at home. We did some yard work on Saturday and then Dean had to go to the station in the evening. I watched the Les Miserables concert for 2010 because you all know how I felt about the movie. Miss Bella even got a bath and I washed all her bedding.
How many of you are suffering already with the allergies? This past week it started and I hope this doesn't mean that it's going to be a bad season.