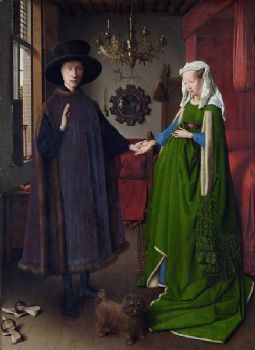 Jan van Eyck (between circa 1390 and circa -1441)
Title Untitled, known in English as The Arnolfini Portrait, The Arnolfini Wedding, The Arnolfini Marriage, The Arnolfini Double Portrait, or Portrait of Giovanni Arnolfini and his Wife
Date 1434
Current location National Gallery, London, England
My wedding anniversary is in 2 weeks. My husband died a little over 5 years ago and the numbness wore off about 3 years ago. Last year after I lost my first 25 lbs, I felt a release from some of the paralyzing grief. It was as if that grief had been trapped in the fat and was now gone.
I still grieve for my husband, but I am no longer paralyzed by the grief. I have made great strides in trying to lead a healthier life so that the life I have left can be lived to the fullest.
I have worn myself out trying to appear to be "doing well." It comes from an old fear of mine, that if I'm not showing progress, if I'm not better than I was before, the _______________ (insert teacher, doctor, child, parent, friend, and colleague) will not like me anymore. I will be just another fat person, and who wants to be friends with me?
For a long time, I would feel furious when people said, "How are you?" to me. I felt like they were pressuring me to say fine, when they must know deep inside that I was not fine, I was in pain and their glibness really infuriated me. But instead of telling people how I was, I would say fine. I'd then be angry with myself for participating in the charade. So I would go home at night and insulate myself from these feelings with the bliss I could achieve with the sugar-salt-fat combo.
I've lost that insulation with my new healthy eating habits. I have to admit to myself when I am lonely. I have to recognize that I am sometimes afraid of what my future will be. I make an effort to go places alone so I am forced to "make a friend," and meet people.
When I am tired, like I am today, it is harder to ward off the loneliness. I miss my husband. I miss him every day and every night. I don't think I will ever be accustomed to the fact that he has gone. And you know what? I am sick of saying that I am fine when I don't feel fine.
I am forcing myself to post this blog because I need to overcome the fear that I must always "be fine." Today I am not fine. And I've got to be good with that.