Monday, May 13, 2013
I have to say that I've always had problems with self control and my mouth...especially as it pertains to what comes OUT of it! I did get it honestly (although that's no excuse). I came from a background of strong women who always knew best...especially if it involved a MAN. Women who stood up for what they wanted, what they believed in, and in what they felt 'entitled' to... women who knew their way was the right way and didn't mind saying so, albeit at times harshly and critically. This trait has caused me great problems and times of woe.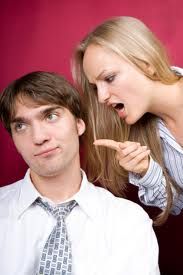 As the years of my life went by, I continued in my critical thinking of men and their ways. At some point, I unofficially joined the Man Haters Club...thinking only I had the answers and that only I could do things the right way. I had failed relationships and failed marriages. Throughout my life, there were many times I didn't care how I sounded. There were many times I felt justified in my behavior. But there were also times I felt ashamed and embarrassed and sad. I felt out of control. During those times, I prayed for the Lord to help me change...to help me control my mouth. It seemed my prayers went unanswered. Of course, I was still focusing on ME.