New pic I can post with self acceptance...
Sunday, May 12, 2013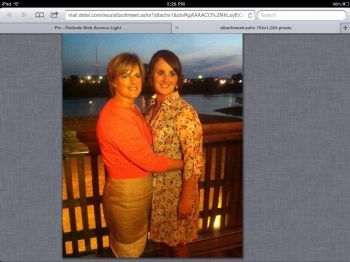 I can finally take a pic and feel comfortable sharing. This is me on the left with my daughter, Michelle, May 2013 graduating college with a doctorate in pharmacy. I am so very proud of her!
I have been on this weight-loss, maintenance, gain a few/lose a few for almost two years now. I am now 6lbs from my goal weight. I am planning and working on making this a lifetime commitment to a heathy lifestyle that will maintain this weightloss.
I have struggled with the yo-yo all of my adult life, contributing the cycle to emotional/binge eating and using food for comfort. I concentrated my efforts on the mental and physical this time in hopes of regaining control over food. I have for the first time managed the process for two years! I still cannot believe it! If asked how, I would say it is a lifelong process. But it can be done! Never give up. Refocus, regroup, reset, and keep on going!
I have to look at new pics over and over to realize that this is really me. And it was me in December and it was me in August! Not just this week or month!