Sunday, May 12, 2013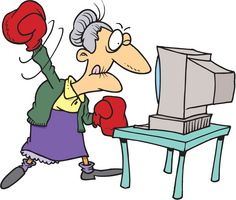 I was reading another story where a youngish person (mid-40's or younger) lost a whole lot of weight and is in wonderful shape and wondered again about being in my 60's past menopause and losing estrogen and other compounds/hormones like there's no tomorrow. Not only would I look ridiculous losing the 140 pounds I've gained since my mid-20's (skin wouldn't shrink back and a cosmetic/skin removal operation would be too risky for me) but it would probably prove detrimental to my innards; I mean my ovaries have shrunken with age, like they're "supposed" to but if I were to become a bag too big for my contents. . .
I re-took the osteoarthritis quiz and remembered that women over 65 are most affected and realized there's a reason for that; yeah, men and the physically fit of all ages can get it but. . . once again, it has to have some "special" female thing going wrong but, because we're female and menopause use to be treated as a "disease" such a short time ago as my mother's era, no one is looking at it from the woman's point of view and trying to see what could be going wrong.
So, I started re-reading about exercise for those over 60 and one thing led to another and I ended up at a great site, the American Senior Fitness Association
www.seniorfitness.net/
and signed up for their free newsletter. Reading an article in their current newsletter about "Exercise and Lung Disease", I found out about "restorators" and plan to get one.
Back to the original SparkPeople article about exercise for those over 60 and the Fitness test one should take to see where one needs to improve and how much, etc., I read about a couple books and researching them on Barnes and Noble for my Nook, bought "Living a Healthy Life with Chronic Conditions. . ." by Kate Lorig
www.amazon.com/Living-He
althy-Life-Chronic-Conditi
ons/dp/193350336X/
and am going to add that to my SparkPeople book program I'm starting work with tomorrow.