"All that I am or ever hope to be, I owe to my angel mother." ― Abraham Lincoln
Today as we honor our mothers, I want to take some time to reflect on my incredible mother.
My mother is many things to me and is one of the most positive, generous, energetic, and selfless people I know. But since this is Spark, I want to focus on the amazing healthy habits she has instilled in me, because I feel she is also a wonderful role model for health.
My mother will be 74 years old (this Tuesday) and you'd never know it. She is fit and trim, exercising regularly, but never obsessively. She eats delicious healthy foods in moderate portions slowly, because she prefers them. But if she's in the mood, she can also eat decadent and/or junky foods, without any guilt.
My mother's weight is always the same. She has clothes she wore 20-30 years ago and they all still fit. If she gains a few pounds, she adjusts so they come off, but never with any panic or stress.
My mother is always optimistic. She sees all the good in life, all the good in people, and finds a way to find the silver lining in any situation. She reminds me to focus on all the good in life.
My mother continues to learn and grow. For example, she will be spending two weeks in Paris this summer, taking an intensive course on Instrumental Enrichment, which is a teaching methodology she uses when working with her students, who have autism and Down Syndrome. Oh, yes, she still works, teaching students with very special needs, finding joy and energy in that work.
My mother always makes time for culture and social engagement. She purchases season passes to the symphony and theater because even though she feels tired after working hard, these activities fill her soul and make her life worth living. She regularly sees her friends, meeting in museums or having dinner parties.
My mother is always ready to help in any way. When my husband was diagnosed with cancer, she was immediately there. She helps care for my daughter, and helps to take away any extra stress in my life so that a very difficult situation is a bit easier.
I cannot really express how incredibly lucky I feel to have such an amazing mother. Happy mother's day mom! I love you!
"Mother's love is peace. It need not be acquired, it need not be deserved." Erich Fromm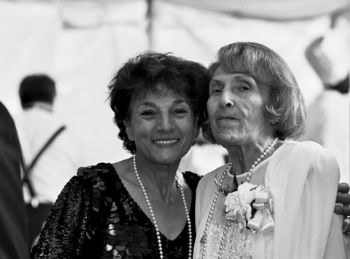 My amazing mother, and her amazing mother (who lived a healthy 90 years!)