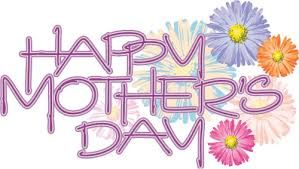 Wishing everyone a very Happy Mother's Day. While I live 1,500 miles from my sons I still go back to the day each of them were born and remember how they each completed a part of my life in their own way.
*Michael~always a quiet baby, easy to amuse, always slept well, never gave me a moment of grief! Today, 38 years old, father of 3, took in and adopted his wife's nephew. Today Michael is still a quiet soul, loving husband and doting father. Hard worker, spends so much time with his children. Michael taught me peacefulness, quiet, taking time to slow down and smell those roses.
*Jason~a handful, cried constantly as a baby, only wanted to be held, nothing would entertain him! Today, 36 years old, father of 4 boys, took in his wife's grandmother to live with them. Jason gave me every single grey hair I sport today....I earned every one! Today, Jason is sill a loud guy, you don't have to sit up front to hear him. Loving husband, great father, church going young man. He works tirelessly to provide for his family and reaches out to help others in his church family all the time. Jason spends so much time with his boys, camping, gold panning, fishing. While Jason may of been a "problem" growing up he has made up for all those times! Jason taught me a lot of patience, faith, hope and to be "heard" when I need to!
* Richard~a good baby but always getting into things! He ended up getting into lots of trouble as a teen, diagnosed with bi-polar disorder. It was a rough growing up for this young man. Today he is 34 years old, has 3 children and 1 his wife brought to the marriage. 2 of his sons have a rare genetic disorder, 1 has CF. He has struggled with his children's health issues, gets overwhelmed at times but is doing the very best he can. Loves working on cars and has his own "Mobile Mechanic" business. He has grown up with some issues but he loves his family very much. Richard has taught me to never give up on anyone, that even the worst situations have diamonds of positively in each of them. Richard too has taught me how deeply someone can love another even when things seem their worst.
I love my boys, they brought 3 strong, beautiful and loving women into my life. The best "gifts" I ever received were my 3 boys, their wives and my 12 grandkids. I hope today you look back and remember your children and their lives and what they brought to you!
And for those women that never had children of their own I want to wish YOU a Happy Mother's Day too. You have "nurtured" so many children and people throughout your lives. While you may not BE a "Mother" you ARE a Mother in a very special way. Happy Mother's Day to everyone!