My cousins are really into geocaching. I didn't quite understand what geocaching is until today. Basically, there are little caches of items ... stuff ... hidden all over the place. Literally -- all over the place. So you can plug in on a GPS where you are or where you're going, and all these geocaches will pop up in your search. Then you follow the coordinates to get to a cache, find it, log that you were there, maybe leave something for the next adventurer, maybe take something as a memento or to move along to its next stop.
So this is what my cousins do on the weekend. It's kind of fun, actually. You get some fresh air, have a little adventure, look for hidden stuff.
A few weeks ago they found a TravelBug with a message on it, and the message was that this bug wants to visit all the sites of the 9/11 attacks. I live in Pittsburgh, which is only a couple of hours from Shanksville, Pa., where United 93 crashed. So we made a plan for them to come down from western N.Y., where they live, for the day so we could take this TravelBug on the first step of its journey to see all the sites.
The memorial park at Shanksville is powerful. It's very quiet, very peaceful. You walk along a long black wall that borders the debris field. Every so often there are niches cut into the wall where people have left mementoes. Coins, rosaries, little toy fire trucks. Flowers. Off in the distance you can make out a gash in the woods and a boulder bordered by American flags. This is where Flight 93 made impact. This is the final resting place of the 40 people who were on the plane that day.
At the end of the walkway are 40 vertical white marble slabs engraved with the names of those who died. Some of them have flowers at their bases that were wet with rain this afternoon. The marble is set along the flight path of Flight 93 in its final seconds. At the end of the row of slabs is a barrier made of thick wooden slabs and between the slabs, a few hundred yards away, is the boulder.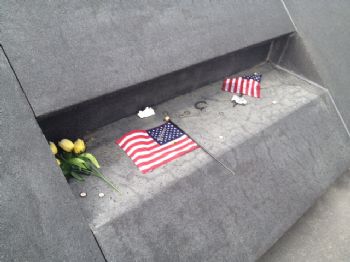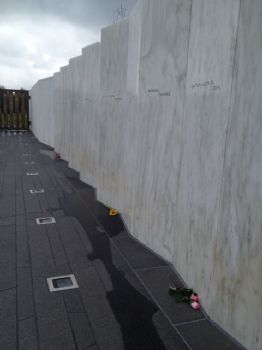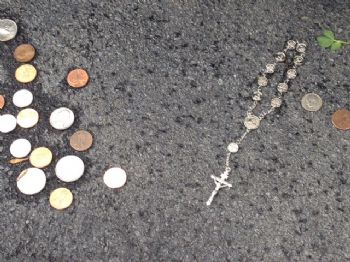 There were moments today when we were walking along the debris field when I felt tears come to my eyes. In a way it is unbelievable that 9/11 happened more than a decade ago. It still feels fresh.
After we paid our respects, we found a geocache a few miles away and left the bug in it. So the next person who finds that cache and takes the bug will see that it gets to New York City and to the Pentagon.
We found three geocaches in all. They took two more Travel Bugs from two of them. One wants to go to Alaska and then to Orlando. The other one started in Sweden and eventually wants to get back to Sweden.
I can sort of see the attraction my cousins have for this hobby. It's cool to go searching for something, and to actually find it. Then to contribute to it in some way. It's neat. Will I register with geocaching.com? Probably not likely ... though my cousin tells me there are lots of geocaches in Pittsburgh.