Week 66...weigh in...
Saturday, May 11, 2013
Happy Mothers Day!!!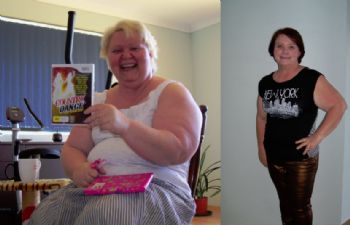 Hi Sparkies,
No change in weight this week from last.
I have been very depressed and sad at start of week and was way below on my Calories, under 1200 on 5 days, so my body says "hey we better hang on to this for a while!!!"
But with some kind comments on SP and DH being extra kind and compassionate!!! I have rallied again. My biggest hurdle in life is 'worrying about things I can do nothing about'. As soon as I let go of the worrying I felt a lot better.
So I asked Bec DD to take some new photos of me in the Mother's Day purchases I made last week courtesy of DS. (When I got home last week he asked if I had fun using the card? Lovely man he is!!) She did makeup and hair as well. It was fun.
Then we did a comparison photo with 2011 and now together so I could see that "I am not that size any more" as she is always telling me. Thank the Lord for daughters.:) :)
I keep going back to it to have another look.

So a great week all in all, I find I am changing within and without so it's all good.
Thanks for taking the time to read my blog and making comments it's great to be a part of such a wonderful group of people.
Hope your coming week is full of sunshine!!!