I received an email yesterday from my BFF yesterday. He is a tour director and this week has been in Washington D.C. with over 200 8th graders. Yes, this is one trip I didn't wish I could go on, even though Les, the best bus driver was the driver. I love love love traveling with Gary and Les as a team A good time is always had. I digress. Well, guess who did the wreath ceremony?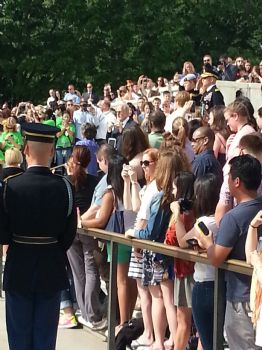 Does he look familiar? Gary said the kids were so excited, he was too. Here are the pictures he took.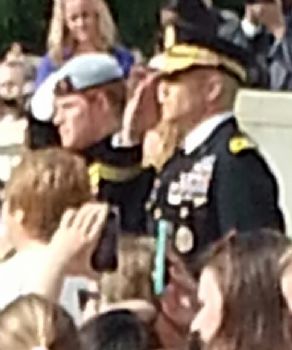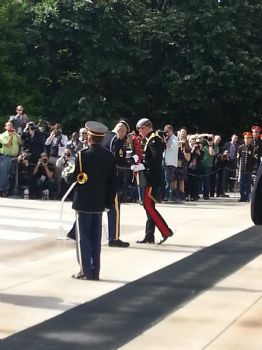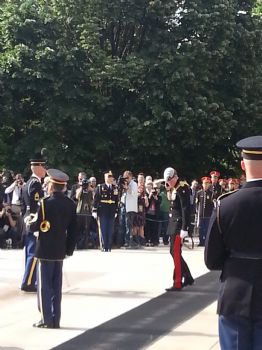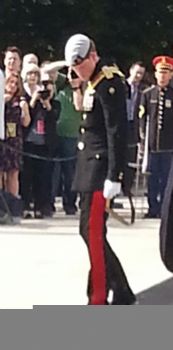 These were all taken when Prince Harry replaced the wreath with a new wreath. I went to Arlington National Cemetery with my Mom in 2006. She turned 80 that year and it was her birthday present from me. Just me and my Mom. What a wonderful trip with precious memories. I remember seeing the ceremony and there wasn't a dry eye in the crowd, grown men crying. It is very beautiful but also I don't I can't think of the word. Moving, touching but something much more than that. I can't describe it. My eyes are brimming thinking of it. Taps always gets to me. I forget how often they do the ceremony. I am not sure if it is every couple hours or every hour.
Gary said the school kids were quite excited to see Harry. I guess Gary yelled out Harry, Welcome to the USA or something to that effect and captured this picture. He got a nod from a Prince. Wow.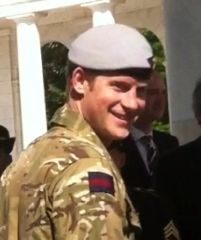 Harry was going to the hospital to visit wounded soldiers and had changed out of his "good clothes". I chided Gary, kiddingly for saying Harry and not Prince Harry. I guess he has no respect.

Gary, of course, had to point out that when Prince Harry was born our children were grown.

Gary for that.
While in D.C. they also got to see Obama's motorcade. The school kids were all happy about that too. Though they didn't really see the president, they did see what many never get to see in person. Gary actually enjoyed this trip. He did call me last night a few minutes before getting home. Then he said I am pulling into my driveway now. I am home and tired. I told him yes, but satisfied with a great trip and a job

He will do it all over again Tuesday-Friday with another school. Minus Prince Harry.