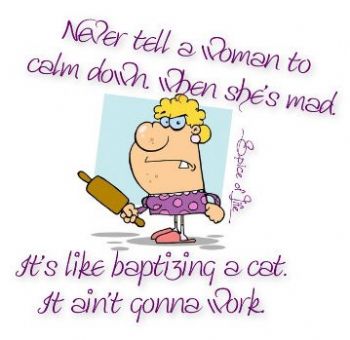 These last few days had me so worked up, yesterday I was really upset only because our sellers lawyers were being an asshat.... (ok a jerk) anyway, they were just causing a lot of drama issues and what not, so what do I Do, turn to facebook to vent... pppfffttt
During this mess, a few friends called and texted me to calm down... I had also asked for prayers and calmness as well to get through this...
Ok when a woman is mad, you dont ever ever tell her to do so, only because its like baptizing a cat, its not going to happen!
Things were going perfect until yesterday.. they were trying to push back our closing day to an extra 2more days... my laywer finally kicked and said, contract was for monday, you go 2 more days you will have to pay them an extra $300 for breech. All of a sudden, the closing is where it was supposed to be.. back on monday but 4pm...
So, for the most part, things are good, answered prayers happened.. just not in the morning like we wanted but, it still was on monday. Today is packing, tommorrow is the truck, will be back online wed and back to work as always..
May all of you have a wonderful's mothers day weekend! Its supposed to be beautiful weather for it!
Oh, for the record.... our cat does wonderful on baths.... actually she just sits there , its the dogs that fight more LOLOL