Have Your Favorite Drink - Engage Brain
Saturday, May 11, 2013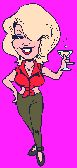 It doesn't have to be alcoholic, whatever your favorite drink is will be fine! In winter it may be something hot, summer calls for something cold. Sit where you will not be disturbed and where you will have absolute quiet. Speaking of absolute quiet, it was not until sitting on my back patio the other day (here in the mountains) that I realized what absolute quiet sounds like. At first you think there is no sound at all. Then little by little you hear small little sounds that you never noticed before. The birds are chirping or twittering, small scurrying sounds reach your ears, the sound of crickets may be mixed in. Most people, especially if you don't live alone, or are in the city cannot even imagine anything as quiet as an afternoon or evening in a nearly isolated location.
So here you are, letting your brain ramble lazily over various things going on in your life. If even there was a time and place to solve whatever is bothering you, it would be now! Your body is relaxed, it leaves room for logic and good sense to take over. You may have the solution to your problem in the back of your mind, and just don't choose to acknowledge it. Sometimes it's hard to say "no" or "enough" to a loved one but to really help them, it's what you must do.
This is also a time when you can admit to yourself "why" you aren't doing as well on your Healthy Lifestyle as you'd like. YOU, and maybe only you know of a forbidden treat that you ate when no one was around. You also know if you've been consistent with your exercise program. If you're guilty of any of these things, only you knows the real reason behind it. Do you really want to lose weight? Or are you scared? I know there can be lots of reasons, and some of them sound silly if you say them out loud.
Now if drinking in isolation and thinking things over doesn't seem to help you, another trick I have up my sleeve is to get outside and do some gardening or yard work. It can be strenuous or fairly low-key. The secret is that an hour outside, with that type of activity can be as well spent as an hour with a shrink, and cheaper too! I myself have solved many problems just by working in my yard. The answers are already there -- you just need to slow your brain down enough for the answer to make itself known.
So

or

+


just might solve whatever worries or depresses you.