Mom Loved a Good Martini on Friday Night
Thursday, May 09, 2013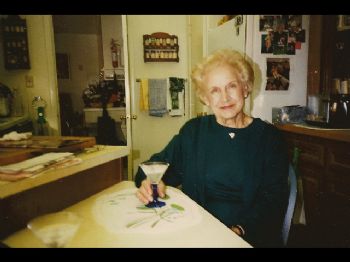 My mother loved a good martini on Friday night. Doesn't she look elegant here, sitting in her kitchen of 55 years? A few years later she fell victim to dementia, but in this photograph she was at home and happy that her daughter (me) was home with her camera.
Many things come to mind when I look at this picture. She's been gone several years now, and I miss her. Left behind is a legacy of eating healthy food, entertaining with food, and gathering our family around our table most of the days of my childhood. It was common for my mother to buy a box of strawberries and leave them out to snack on. She loved fruits and vegetables of all kinds and we ate them all. We drank milk at every meal and as for soda—well that was a treat once a year at my dad's company picnic. Growing up in the Pacific Northwest we also had plenty of seafood, especially salmon.
My mother weighed the same 135 lbs most of her adult life. At 5'5 it was a terrific weight for her.
Spark has been a great help to me in managing my weight and life style. But as Mother's Day approaches I also have to honor the start she gave me. In many ways learning to modify my lifestyle into healthy habits has been a lot like coming home to my mom's kitchen. And while I prefer water to milk at every meal, I do like an occasional dry martini on Friday nights.