I have been thinking about this a lot lately. Everywhere you turn you hear or read people talking about health and being healthy, but at the same time I feel like people often have very different ideas of whatís healthy and what isnít. I think we all define ďhealthĒ in our own way. Sure, most of us would agree that being healthy means that you are not currently suffering from any major, chronic illnesses etc. but after that, it gets a little more vague.
I decided to try and write down some of my own ideas of what being healthy means to me right now. This list would have been a lot different a year or two ago. Now that I have lost weight and become a stronger person in so many different ways, I see things very differently than I used to. It was interesting to realize it as I was writing my list. I originally just wrote this for myself but I wanted to share this with you, my SparkPeople Family. I hope you enjoy reading it!
Being healthy means being able to mess up and forgiving yourself without dwelling on it. It means not obsessing about calories, fitness minutes or the numbers on the scale. It means looking at the bigger picture, your life, your future, and not being stressed out about having to lose a certain amount of weight per week and then feeling like a failure if it doesnít happen. It means being kind to yourself above all things. It means being your own best friend. It means being patient and forgiving. And it means not always being in control and being able to sometimes let things go: you donít have to be ďperfectĒ! Just be you.
Being healthy means working out because you want to, not because you have to. Itís okay to skip a workout sometimes. It is not healthy to push through pain or work out when you are not feeling well. It is healthy, however, to listen to your body and to respect its signals. Itís healthy to move and get your heart rate up a few times a week but itís also healthy to give your body time to rest between workouts.
Being healthy means eating a slice of cake every now and then without having to justify eating it. Itís okay! Itís not a crime. There is no health police around the corner waiting for you to make that critical error just so they can arrest you. Itís healthy to eat unhealthy foods sometimes! Itís okay to have an ice cream on a Sunday afternoon or a slice of pizza on a Friday night. The world is not going to end! When I eat a slice of cake I donít have to say: ďIíve been staying within my calories all week and now itís okay for me to eat this cakeĒ, or ďIím going to work out twice as hard tomorrow to burn this off!Ē. I can just eat it, enjoy every bite and not worry about it! Itís is not healthy to obsess about every single thing you put in your mouth. That being said, it is also not healthy to use that as an excuse to routinely overeat. Being healthy is being balanced.
Being healthy means being comfortable in your own skin. It means looking in the mirror and liking what you see. It means falling in love with the person you are, inside and outside. It means looking for things you like instead of looking for flaws or things that need to change. It means accepting and loving your body as it is: Iím not getting any taller, for example. It also means loving yourself at any size. You deserve it. Only when you truly love yourself is change possible. Self-hate only makes things worse. Being healthy means falling in love with yourself and treating your body with the love and respect that it deserves.
Being healthy means being happy about where you are in life: your job, your studies, your home, your relationships, your family, your hopes and dreams. Being healthy means being honest with yourself about what you want in this life. It means changing things if necessary to be happy and where you need to be. It means taking charge of things, making changes, taking risks. It sometimes means taking a leap of faith and trusting yourself. Being healthy means listening to that inner voice that knows exactly what it wants. Sometimes itís not easy, but itís worth it. It is not healthy to try to please everyone at your own expense. Being healthy means being true to you.
Being healthy means knowing what works for YOU. It means being able to say no sometimes and knowing your limits. It also means breaking them sometimes. Itís healthy to force yourself outside of your comfort zone and to try new things. Being healthy means giving your body, mind and spirit the nutrition they need to keep you full and satisfied physically, mentally and spiritually. It means feeding your body with nutritious and delicious foods, not eating too little or too much, being active, doing things that make you happy (a good book, writing poems, going for walks, meeting friends, taking a nap, going to see a movieÖ), staying honest with yourself and the people around you, listening to yourself, loving yourself, improving yourself, knowing that whatever happens, you are a beautiful, unique and deserving individual who will do amazing things as long as she believes in herself!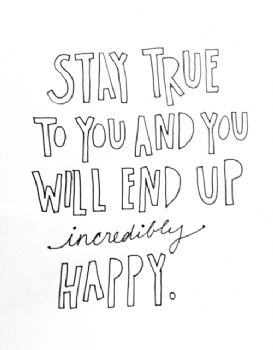 What are your definitions of being healthy? :)