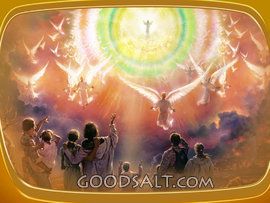 Jesus promise to Return...
I will come again and receive you to Myself; that's where I am there you may be also
John 14;3b
For the Lord Himself will descent from heaven with a shout...And the dead in Christ will rise first, then we who are alive and remain shall be caught up together with them in the clouds to meet the Lord in the air. And thus we shall always be with the Lord.
1 Thessalonians 4;16-17
For as the lightning comes from the east and flashes to the west, so also will the coming of the Son of Man be. Then the signs of the Son of Man will appear in heaven, and then all the tribes of the earth will mourn, and they will see the Son of Man coming on the clouds of heaven with power and great glory. And he will send His angles with a great sound of a trumpet, and they will gather together His elect from the four winds, from one end of heaven to the other. Matthew 24:27, 30-31
For the Son of Man will come in the glory of His father with His angels and then he will reward each according to his works. Matthew 16:27
Jesus will judge the World...
God now commands all men everywhere to repent, because he has appointed a day on which He will judge the world in righteousness by the Man whom he has ordained. he has given assurance of this to all by raising Him from the dead. Acts 17:30b-31A
Many will say to Me in that day, Lord, Lord have we not prophesied in Your name, cast out demons in Your name, and done many wonders in Your name? And then I will declare to them, I never knew you; depart from Me, you who practice lawlessness...
Matthew 7:22-23
Each of us shall give account of himself to God Romans 14:12b
But the day of the Lord will come as a thief in the night, in which a great noise, and the elements will melt with fervent heat: both the earth and the works that are in it will be burned up. therefore, since all these thing will be dissolved, what manner of persons ought you to be in holy conduct and godliness...? Nevertheless we, according to His promise, look for new heavens and a new earth in which righteousness dwells.
2 Peter 3:10-13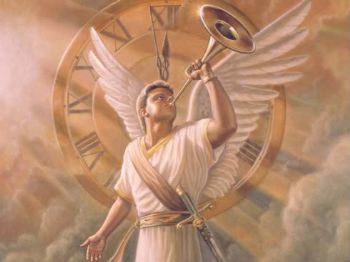 Jesus will reign Forever!
therefore God also has highly exalted Him and given him the name which is above every name, that at the name of Jesus every knee should bow, of those in heaven, and of those on earth and of those under the earth, and that every tongue should confess that Jesus Christ is Lord, to they glory of God the Father. Phil. 2;9-11
I was watching in the night visions, and behold. One like the son of man, coming with clouds of heaven. Then to Him was given dominion and glory and a kingdom, that all peoples, nations, and languages should serve him. His dominion is an everlasting dominion, which shall not pass away, and His kingdom the one which shall not be destroyed. Daniel 7:13-14
Worthy is the Lamb who was slain to receive power and riches and wisdom, and strength and honor and glory and blessing! Revelations 5:12b
And there were loud voices in heaven, saying, the kingdoms of this world have become the kingdoms of our Lord and of His Christ, and He shall reign forever and ever! Revelation 11:15b
Jesus wants you to come to Him...
Behold, I stand at the door and knock. If anyone hears My voice and open the door, I will come in to him and dine with him, and he with me Revelation 3:20
Let him who thirst come, and whoever desires, let him take the water of life freely.
Revelation 22:17b
Accept Jesus as you Personal Saviour now!
He who believes in the Son has everlasting life; and he who does not believe the Son shall not see life, but the wrath of God abides on Him. John 3:36
How shall we escape if we neglect so great a salvation? Hebrew 2:3a
If you confess with your mouth that Lord Jesus and believe in your heart that God has raised Him from the dead, you will be saved. For with the heart one believes to righteousness and with the mouth confession is made to salvation. Roman 10:9b-10
A prayer Guide:
Dear Lord Jesus,
thank you for dying on the cross to take away my sins. I am sorry for the wrong things I have done. I receive You into my heart right now to be a my Savior and Lord. I believe your promise to make me a child of God. I trust You to give me strength day by day to live for You!
In Jesus name I pray Amen!