Tuesday, May 07, 2013
As I was working in the garden yesterday, it occurred to me how much harder this work would have been if I still had been carrying with me those 55 pounds I've lost. There is a 50 lb kettle ball that I use at the gym for several of my exercises. I like to do this to remind me of what I used to carry with me all the time in fat. Imagine having that chained to me as I worked in the garden. That would have been miserable! I'm not sure I could have done seven hours of intense physical work a year ago. Anyway, its a joy to celebrate. My wife and I planted 30 asparagus plants, a blackberry and two raspberry bushes and two currant plants. We also transplanted several bushes around the house and planted several flowering plants. It will be fun to enjoy the food and flowers from yesterdays labor in the years to come. I am sore from the day's workout but feel a great sense of accomplishment.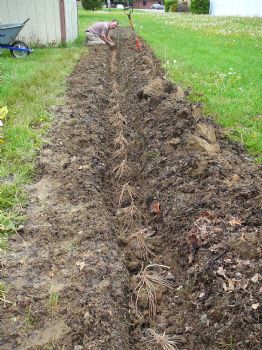 Here I am with the trench dug for the asparagus plants!