Monday, May 06, 2013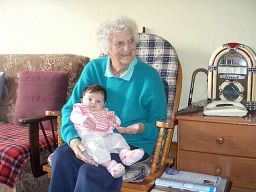 This is my beloved Grandma Pearl.She is the mother of my best friend Gail Murray.She died yesterday May 6 2013.
She is pictured here with her great grand daughter Emily Brown.
She will be terribly missed,a true Angel walking among us.A beloved mother,devoted grandmother and just all around beautiful human being.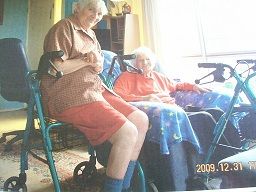 Here is Grandma Pearl and Gail almost 4 years ago.I'm so glad I have these memories of her.
Right now she is walking through the fields of Heaven with her darling Desmond who died more than 50 years ago.They are together again and will be for eternity.She is with her family, and all her friends are waiting for us to come home.
There is no more pain,no more confusion.She is now with Christ and I am so happy for her.I love you Grandma Pearl.You changed the lives of all those who met you.You left us with glorious memories and for that I am truly grateful.