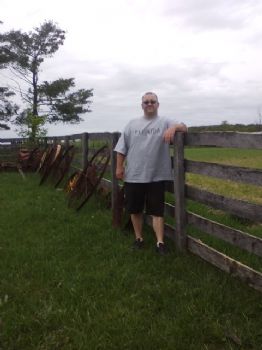 (Me at a farm park we visited yesterday)
Hello everyone,
I am blogging to help me keep on track. I was going full steam
after the cabin build and ended up spending over what I needed
to. Thus I had to step back and take a extra few days away
from the build.
My shoulder has gotten more rest and this is a good thing.
This is planned as we are building loan free.
We will be working just one day a week on the cabin
the next few weeks but plan on a long day thus getting more
done.
I did gain back 1/2 pound normal water etc and am not
upset about it. I did over do it eating candy night
before last and knew it would catch up to me..
This said I did well yesterday and plan on a
better day today!

My stress level is 2 today due to the
regular issues.
Spark People loss total pounds- 30 as of 5/6/13
Short Term goals :
Weight:
273 = 40 pounds down again ! ___reward = Movie New pair of jeans
263 (again to 50 pounds gone 23 to go ! )__ reward = Vacation
262 (low in years)__ New pair of jeans and underwear/socks! Check that 2 New outfits!
259 __ Party ...!!!!!
255__New shirt
249 __ Vacation amusement park ! OR Yellowstone Park without all the extra weight I should be able to hike for days!
Mini goals:
Master kinect dance central .
Strength:
3 minute pushups test goal 150 (122 current)__ New pics for my sparkpage, and a movie out !
bench 300 pounds max out(240 current)__ Meal out!
curl 60 pounds each arm 10 times(40 now,60- 5 times)__ TBD ,meal out!
Pushups 5 reps 1 kid on back__ New Everlast shirt and shorts/joggers
Pushups 10 reps 1 kid on back__ Day off workout/and calories count
Pushups 5 reps 2 kids on back __ 3 days of rest from strength training!
Life is Great and God is Greater for Strength , my family
,children and Amazing wife , my spark friends , spark teams ,
many material and other blessing in my life and The ability to
get up period !! !!
To exercise with little to no pain most days!
YES

eating Healthy? good.
Stretch your body?
Today ? YES

Workout or hike minimum 30 minutes Yesterday? YES

Cardio (10 minutes minimum) ?
no
4) blog for motivation? YES

5) read other blogs and posts for extra motivation ? Yes

6) weight loss-not required but nice to see- +/- +1 pound
last weigh in: last 282 today 283
next weigh in 5/13/2013
last weekly loss/gain checked 4/20/13 +/- 0 pounds
monthly loss/gain 3/20/13 to 4/20/13 +/- -3 pounds
After CHIP weight (294) 283
Did I get 7 hours of sleep last night? 7 Yes


for reading my blog !
Have a

DAY !