Hold the Mail
Monday, May 06, 2013
I posted a couple of days ago about a recent discovery on my morning walk. I know that Vic and Linda have returned to Vermont for the summer, but I saw their mailbox hanging open that morning, with an array of twigs sticking out of it. On closer inspection, this is what I found: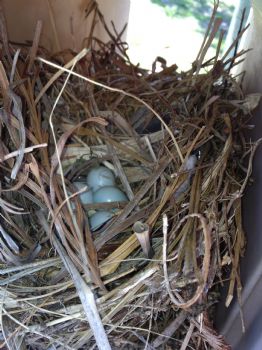 The back of the box is open as well. If Gilda or my former officemate, Sharon, had seen this, they'd be in a caregiving frenzy just short of sitting on the eggs personally to hatch them. Sharon once spent an entire morning trying to rescue a nest-fallen baby bird whose mother was flying about in a tizzy. There were cats in the area, too. I'm a bit more "let nature take its course" in these matters, but I did write to a fabulous local wildlife center. Now I'm totally in awe of them! Not only do they rescue bald eagles, but they answer their email within SECONDS:
"Thank you for your email in regards to the eggs in the mailbox. Birds sometime do nest in the most inappropriate places! Since the homeowners are away for the summer, it would be ideal if they could be just left alone. If that is not possible due to the need for postal delivery, we could advise you to move the nest to a nearby tree or bush if one is available. As long as it is placed somewhere close to it's original spot, the mother should come and continue to sit on them. Sometimes you may need to "create" a container of some sort to hold the nest or assist in attaching it to the tree or bush. Any sort of small container or box can be used as long as there is sufficient drainage in case of rain. If you have any further questions please don't hesitate to email us back or call us here at the center. Thank you so much for your attention to nature!"