Monday, May 06, 2013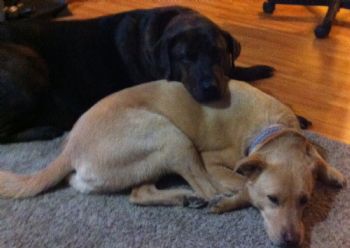 What a day... packing our house up for moving because we are moving Sunday...then our dog Chyanne (yellow one) suddenly collapsed.. took her to the ER emergency vet and they found out she had a ruptured spleen with a tumor.. we had to put her down.. She was brought along with my hubby on our first date for a park walk. We bonded right away and my hubby knew. It was like a test because she was very shy around new poeple and it took them a few times to warm up .
An awesome dog that will be missed.. RIP Chyanne.. she was 8yrs old...She touched everyone that met her.
Not even one week ago we had to put my parents dog "Annie" down due to cancer as well, she was 11yrs old.
But waking up this morning she would always greet us with her bark of wo wo wo wo... only four short barks, was her hello greeting no matter if we woke up or left somewhere even if it was a 5 minute trip to the store and came back.. it was also her bark for when we walked her and she got too far ahead, she would stop turn around and wo wo wo wo wo like hurry up slow pokes...
Now, she will be doing her greeting barks to those on the other side and she will no longer be in pain, but our hearts will as she will always be with us in spirit... Shy, Shy, we love you and will miss you