Quote of the Day: "You only live once. Why not live as healthily and vibrantly as you can?" (Denise Austin)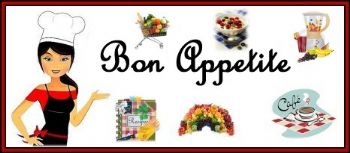 Last week I said that I sucked about my weight loss and it's time to do something about it. I've already changed fitness routine to something simple to get myself back on track and today I'm working on my eating plan.
I've been reading my Beauty Detox book that I got for Easter and putting together a plan that will work for me. I won't be going to the extreme like the book and cut out all things animal and dairy because I do love my meat and dairy too much to cut it out forever. However, I will cut back on both meat and dairy products. I will also cut out processed foods. That's easy for me since I don't really have any processed foods in the house.
There are three simple guidelines to follow for this new beauty lifestyle change from the book:
1. Eat more fruits and vegetables, cutting down on animal products
2. Drink the "Glowing Green Smoothie" or the "Glowing Green Juice" everyday (see April 5th blog)
3. Give up dairy
Here's my plan:
- Eat more veggies and fruits more than anything. When I want a snack or something in between meals I will be reaching for a piece of fruit or veggies.
- Add more fish and seafood and cut back on my meats.
- For my dairy I will be cutting back on it and only using it for my smoothies and maybe some cheese.
- I will only be drinking green tea with lemon in the morning and the rest of the day water with lemon, lime or orange slices.
Here's also an example of what my menu will look like:
Morning Jolt: 1 cup of hot water with a half of lemon squeezed in it to start my day off.
Switch from my morning coffee to green tea with lemon slices and honey
Breakfast - Glowing Green Smoothie
2 cups of cold water
4 cups of spinach
2 cups of lettuce
1/2 cucumber
1 apple cored and chopped
1 cup of blueberries
1/2 banana
2 TBSP. fresh lemon, lime, grapefruit or orange juice
add cinnamon to level blood sugar
Along with the smoothie for breakfast I will have an English muffin with some sugar-free jelly
Lunch
Mixed green salad with lots of fresh veggies, olive oil & vinegar dressing
5oz. of protein (shrimp, chicken, crab sticks or a boiled egg)
some days I might have it rolled up in a whole wheat tortilla wrap and other days just like a salad
Dinner
Mixed green salad with lots of fresh veggies, olive oil & vinegar dressing
5oz. of protein (shrimp, chicken, beef or crab sticks)
1/2 cup of brown rice
Snacks
Two times a day if I need a snack will have fresh fruit or veggies
Or I will make another green smoothie
Just like my workout routine I'm not going to put myself into a list of what I have to do each day, but I'm going to make it much simpler to get myself back on track with my weight loss.