Sunday, May 05, 2013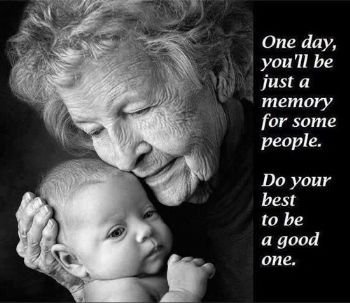 I was looking for something to post on my blog tonight an came across this one. It really did make me think. My grandchildren are miles away from me, but yet they are very close to my heart. There is not a day that goes by that I do not shed a tear looking at pictures on facebook of them. I love fixing them up with "care packages". Just little things that I buy on sale from time to time that I know that they enjoy. When I do spend time with them, it's doing crafts, going swimming, playing hair dresser, playing school, letting them put finger nail polish on my fingers and toes, the sky is the limit. We make little movies on my IPod that I treasure. We sing Christian songs, we dance, I put them to bed, we pray, we read the Bible, I often think what would it be like if they lived near by? Would the times be so special? I have seen them twice a year since they moved to Florida - our newest baby will be born this Friday, this is the last one. I am getting excited and on the other hand kind of sad that this is the last one. I have all sorts of emotions.
Not sure if I shared in my blog, but in June my work load is going to be less at work to help out with the stress. At first I really felt bad, like I couldn't do my job, but one of my team mates told me not to feel that way, she said you deserve it, you have been here 20 years it's time for you to have a break. I suppose I will adjust.
Have a great Monday everyone.