Sometimes, I am very reluctant to try new things. But I am always glad when I do. Fear holds me back and I overthink things, leading to feeling "stuck". When I take the step toward what makes me afraid, I am always glad I took the risk. I feel freedom from the fear, and release from whatever was holding me back.
Change is hard for me. Recently, I read Who Moved My Cheese. A simple, yet true concept. I am afraid of change. I want to move forward but sometimes I am too hesitant.
Two weekends ago, I participated in two events I almost let go by for fear of the unknown, fear of embarrassment, laziness...I am so glad I didn't let that stop me.
On Saturday, I attended a Groove class taught by the creator of Body Groove (now renamed the World Groove Movement). I bought her DVD a while back when Spark reviewed it. I fell in love with her philosophy about dance, fitness, movement. No longer afraid (there's that fear again!) of not geting the dance "right" I started to let myself "groove" and follow her simple, yet powerful instructions and let myself be FREE! I am starstruck. Living in LA I have seen many celebs and I am always mute around them. I observe from afar, never one to approach or ask them for an autograph, or speak to them. I have always been mortified if the person I was with did so. So, the thought of seeing Misty Tripoli in person and interacting with her was kind of scary. Following her Body Groove Delicious Dance DVD and other DVDs made her a celeb in my mind, someone I have watched and followed on TV but how would I feel dancing in a class taught by her? Groove is interactive. You don't just stand in the back of the room observing, rather you travel all over the room, and encounter others.
So, I told myself (even though I was afraid) that I would regret it if I didn't go--how could I lose out on the opportunity to attend a free class?!
So, I went. I saw her out front having her picture taken and I was very nervous.
When the class started I was a little hesitant and a little shy. Others there for the first time were, too. She encouraged us to relax and enjoy. It was easier for me to relax as the class went on because I had danced to her DVDs at home. And while it's very different from an in-person class, I relaxed...She even said to me, "Don't be afraid" a few times throughout the class.
Well, I gathered my courage and I approached her and asked for a picture when the class was over. Something I am NOT used to doing. And when she paused I smiled and asked "Is that weird?" And she answered, totally down to earth and said "No, not at all! In the first year it was, but not now." So, she posed with me. I am so glad I asked. I saw how open and real she was. I have a great memory of the class AND I can share the photos with you all!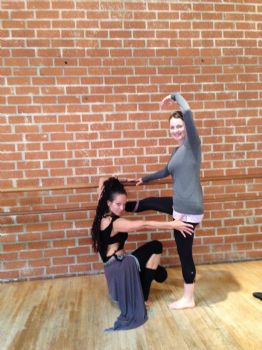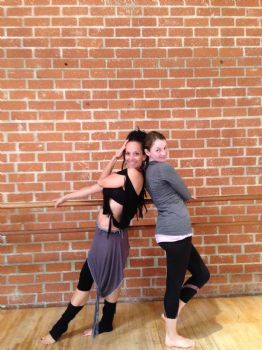 The next day, I went to an event that started in Columbia, originally called Ciclovias, a day in which the streets are closed to cars and open to cyclists. In Los Angeles, we've had the event 5 times so far. The next one will be held in June. I am not an experienced cyclist. I just recently bought a bike from my friend Nancy. She and her husband are bike enthusiasts. Her husband even has built bikes from scratch out of bamboo.
I was initially scared to set out on my own to meet them and bike through the streets of Los Angeles. But she called me from the route. I briefly thought about not going, and the laziness or fear of the unknown held me back. But again, I pushed past that and did something I was not sure of but went anyway. I had a great time! What an awesome feeling. I biked alone for the first part and then met up with my friend and her husband and biked the way back.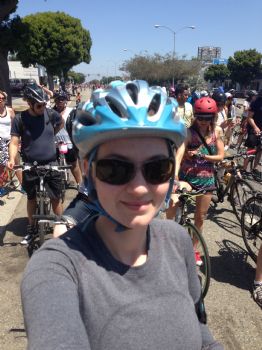 My friend Nancy with her bamboo bike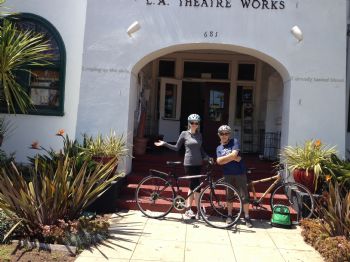 Over the next week I got to attend two more free Groove classes taught by Misty. She did facilitator trainings and is now off to different locations including Alberta, New York, Germany, Luxembourg, Sweden, and other places. She holds retreats in Playa del Carmen, Mexico that sound amazing.
Here was my last Groove class. (Misty isn't in the photo because she took the picture)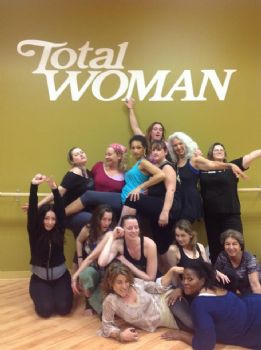 I would have not had the amazing opportunities and experiences were it not for pushing past the discomfort of doing something new.
I have to remind myself to not listen to the negative thoughts that tell me I can't.
What are you glad you tried? Keep pushing forward. Don't listen to the CAN'T. Tell yourself you CAN and you WILL.