Sunday, May 05, 2013
I am so excited to graduate! It was held outdoors under a massively huge tent in the center of Aurora University on the grass. It was such a perfect day! I couldn't have asked for a more perfect day with a nice light breeze flowing in to the tent! I was amazed as how many people were getting their Masters and Doctorates! (The undergrads was held later in the day)
The massively huge tent!
After the ceremonies with my husband!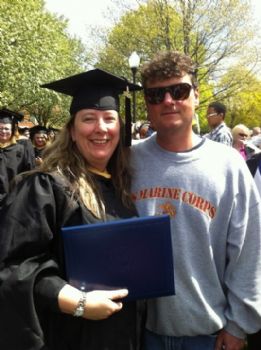 Afterwards, we celebrated at Two Brother's Roundhouse which used to be Walter Payton's Roundhouse in downtown Aurora, IL. We ate outside in the pavilion! What an amazing day!
I pretty much blew all my calories out the water with my lunch! Most likely I will eat a salad later today if I feel hungry. I did cave in and drank a soda...cinnamon root beer...and inhaled my bacon cheeseburger with lots of veggies! Loved the veggies!!!
I hope everyone had a great day today!
Deborah, MSW