So, I did it. I decided I deserved a treat for working hard and "staying on track." So I made an appointment & went to get my hair cut and highlights on Friday. It was glorious. The place I went does a scalp massage before they wash your hair... felt SO good.
That afternoon, I enjoyed my new hair. We went out to dinner. I reverted to my old eating habits and managed to eat ALL OF MY CALORIES in 1 meal! Friday's food intake:
Breakfast: Typical coffee
Trough-feeding: Olive Garden Lasagna Primavera, salad, 1 breadstick
Oh well >>. Sometimes those days happen and I was still within calorie range. I was just really busy!!
So that evening, my head started itching. I figured it was just from having my hair done. Then it kept itching....
Then I woke up with my eyes crusted shut & itching & my forehead looking like... well.... THIS: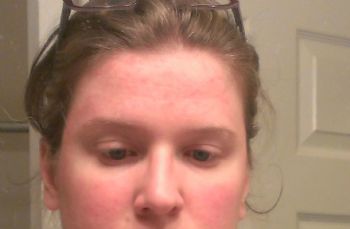 So anyway, it kind of ruined my hiking plans for yesterday. BUT that being said...
after the whole scale nonsense and re-centering my weight goal numbers... I lost over 3 pounds this week! When I recalibrated the scale on Tuesday, I was at 251.8 and very upset about being back over 250. Now I'm back solidly in the 40s at 248.4 as of this morning! Hopefully in the next couple of weeks, I can be back down at the 240 mark I really wanted to get to :) This week, I really did a good job of focusing on my water & getting in multiple meals. Friday was the worst with my massive meal, but easy enough to focus on!
Overall, a challenging week, but I think I did pretty darn good!