Sunday, May 05, 2013
There was a huge AmEx display in downtown Singapore - if you were willing to get your photo taken with "I'm dreaming of [place name]" then you got a free eye mask.
Yup, dreaming of Liberia! I also did a photo for DH, he hates having his pic taken, but we're also dreaming of Machu Picchu.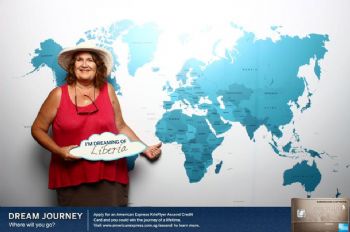 Wow, that actually worked! I'm at an internet cafe, the computer is all in Chinese except for the sites I'm going to - so I wasn't sure I could manage to copy the photo from FB and then post it here - wow, I'm such a computer maven I don't even need to read instructions, LOL!