Seattle/Lake Union-Blogging the Centurion Achievement Challenge in 2013 #26
Saturday, May 04, 2013
The sky was blue as I begin the very urban YRE1402 which circles Seattle's Lake Union. I chose to do this walk May 2 because in Seattle most museums are free on the first Thursday of each month. My favorite Seattle museum, the MOHAI (Museum of History and Industry) moved to a new location on the south side of Lake Union. What better way to break up the walk than to visit the museum mid-way? Also, there is free parking at Gasworks Park at the north end of the lake while you must pay for parking on the south -- so that was a bonus, too.
This is an 11k walk that starts at Gasworks Park a public park on the site of the former Seattle Gas Light Company. The park incorporates pieces of the old plant, some stand as ruins, while others have been incorporated into a children's play structure.

The route mostly follows the Cheshiahud Loop designed to provide safe access to the lake. It links Gasworks Park to South Lake Union, as well as more than 35 pocket parks that ring the lake.
Here is the new MOHAI nestled in between the Historic Ships Wharf and the Center for Wooden Boats. Recent upgrades to this area have made it a nice place to visit.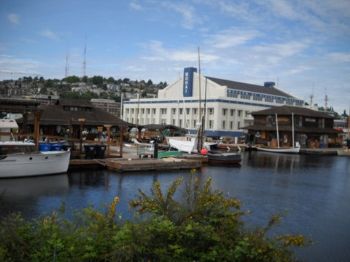 While in the museum the clouds rolled in. I walked along Westlake quickly to stay warm. This side of the lake has many shops and you can see floating homes on the route including the one used in the filming of Sleepless in Seattle.
Crossing the Fremont bridge you follow the Burke-Gilman trail back to the start point.
There are several walks in this area, each giving the walker a different flavor of the communities in the area. No doubt these will be included in later blogs.