Quote of the Day: "It takes two to three weeks to reset your eating habits, so don't give up — your appetite will adjust." (Denise Austin)
The weekend is here and you know what that means.....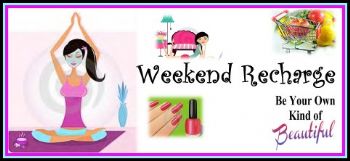 My plans for today already gave me the idea for this blog, grocery shopping. My fridge is looking a little sad and empty because we had the party last week and I didn't go grocery shopping in order to have room for the food for the dinner. I still have some fruits and veggies but they are starting to look like they need to be put out of their misery. Fridays dinners are usually some kind of stir fry so I can throw all the veggies from the past week in there. After dinner I'm usually home alone because Dean is at the station overnight. Last night I popped in "Pretty in Pink" since I had it on the movie list (see yesterday's blog), I had my coupon file, grocery ads, pen and paper.
Here's a few things that I do in order to get myself prepared for the coming week:
- put together my grocery list; check out the grocery ads and get together my coupons
- clean out the fridge throw out left-overs from the week, wipe down the fridge and see what I need
- head out to the grocery store to go shopping on the weekend
- put everything away and clean up veggies
I went to my favorite grocery store Sprouts. The market is on the other side of town, but they have the best fruit and veggies section and lots of healthy foods. You could say that it's almost like Whole Foods, a little smaller and less expensive though. I have my grocery list, coupons and my reusable shopping bags.
I love grocery shopping and getting everything together, but I dislike having to put everything away that's no fun. I have those green bags that seem to work pretty good for my fruits and veggies. I also use my IKEA containers to store some things. I cut up my carrots, celery and radishes in snack size to have them ready to grab if I want a snack. I NEVER clean my fruit until I'm going to eat it because they can go bad or get molded, especially berries. I do cut up lemons, limes or oranges into slices and put in a container to grab and throw in my water or tea.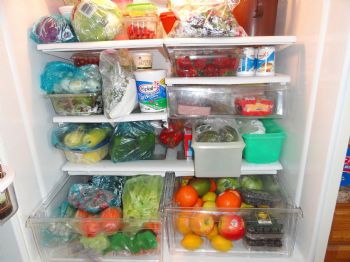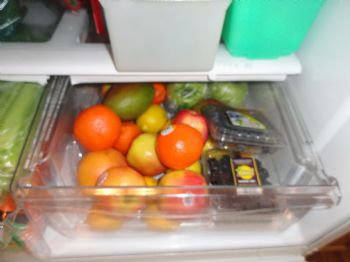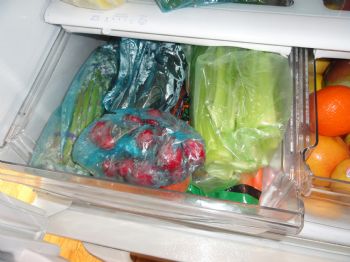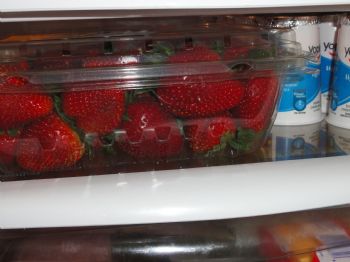 How nice and full my fridge looks now. There's lots of fruits and veggies to have good healthy meals and snacks. I have some light yogurt in a serving size for a snack. I also have plain light yogurt that I use for smoothies in the morning for breakfast.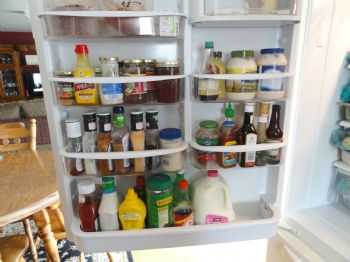 Okay, this part of the fridge not so healthy, lots of condiments. I will say that the salad dressings are all light or no sugar-added. The milk is lowfat, the jelly is sugar-free, soy sauce is low sodium and the mayo has olive oil in it. I try to get the healthiest version of something.
It is very important to have your fridge all set up for your week because it makes it easy to have things right there for you. Its not always easy to eat healthy, but you make it easier for yourself by putting together a menu, grocery list and putting your fridge in order by prepping your veggies. It's about making that choice to change things for your health and weight loss.