Saturday, May 04, 2013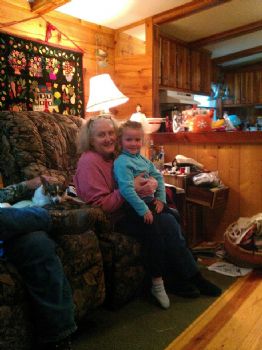 Miss Molly and her family came for a visit today. We so enjoyed having them. A good change from the usual daily routine. We walked around a lot outside and looked at the garden and all the fruit trees and flowers. It was so cold though so came in and she watched me do some cross stitching. She did some coloring with my water color pens in her coloring book and we played with her puppy "Lilwwy" (lily) and my dog Gracie. We ate a marinated grilled beef roast, roasted new potatoes, carrots and onions, steamed asparagus and fresh salad from our garden. We topped it off with a peach dump cake which is like a cobbler. It is Miss Molly's favorite. The asparagus and lettuce were fresh from the garden and the peaches were from last year's harvest from the freezer. We will have several meals from the roast this week. So won't have to do much cooking this next week. But we had a wonderful time. I think I give in to Miss Molly way too much. Her mom says I spoil her. She wanted to blow bubbles so I mixed some dish detergent with a little water and cut off a plastic water bottle and also took an old pair of eye glasses and broke out the lens and we used them to blow our bubbles. Now that really wasn't spoiling her...that was just having fun!!
I couldn't ask for a sweeter, more loving daughter in love and I feel so blest to have them all in my life.