Saturday, May 04, 2013
Yesterday was day number 10

I fertilized and watered

and went out and bought started tomatoes, basil, parsley and rosemary.in anticipation of Day 12


.My paper towel seed tapes had dried nicely. All seemed to be ready but no good deed goes unpunished…..
DH turned on the lawn sprinkler and found that the stake by the side of the straw bale punctured the sprinkler water line!

Huge leak! DH spent the afternoon getting parts to fix it.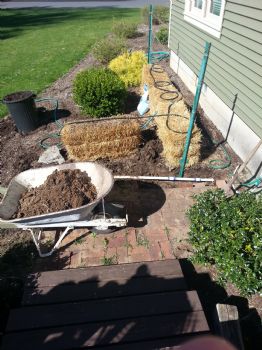 Today is Day number 11 – the day of rest and waiting!!!

But no resting for DH who fixed the leak

. We checked the temperature inside the bales and it was 100 degrees in two of the bales. Way too hot for transplanting .

and is probably why they say to wait one day. Hope the temp tomorrow is just right......Becauase tomorrow is Day 12 - Planting Day