Stress busting success!
Saturday, May 04, 2013
Work was hard and sad yesterday. I struggled to keep myself from a binge session (or four or more) all day long. I ate more than planned, but before I ate, I took relaxed breaths. It worked! No binges!
When I got home, I took a tiny nap, made myself go for a 30 minute run, and then made myself go out with friends to Ray's Boathouse. Have you heard of it? I guess it's Seattle's most famous restaurant. Somehow, I've missed out on it since I moved here 14 years ago. It's on the shore of Puget Sound and has amazing views of the Olympic Mountains, especially during a sunset: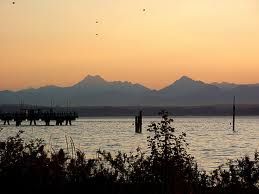 How lucky am I?
I'm super proud of myself for ordering only shrimp cocktail and asparagus instead of an entire fatty, carb filled meal.
I hope you're all treating yourselves well! Have a wonderful weekend:)