Spring gumball nail polish
Saturday, May 04, 2013
Painting my nails,whether long or short, has long been a favorite makeup time for me.
There were several years when things were going so awry I couldn't wear any makeup. I didn't know about paraben and wheat allergies. Everything I put on my face caused a reaction. So the only makeup I could use was nail polish. I use to work in a jewelry store, many years ago and I did my nails every night. Luckily now I have a slew of paraben free,gluten free, organic, natural cosmetics. I'd be glad to recommend some to you if you are looking for sources.
So here's my look for the sundress I'm wearing:-) purple,fushia and coral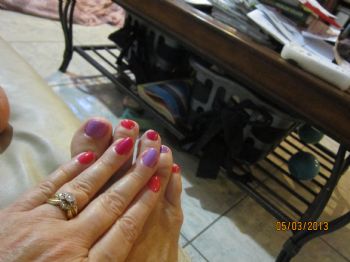 I'll touch up my color for a week or more these days. With the zinc deficiency the ridges on my nails are getting worse so the color makes it look better.