Friday, May 03, 2013
Today is the annual memorial ceremony here in Washington to honor and remember peace offices/law enforcement officers lost in the line of duty. What a beautiful day it is here today to remember our fallen heros. There should be a huge turnout.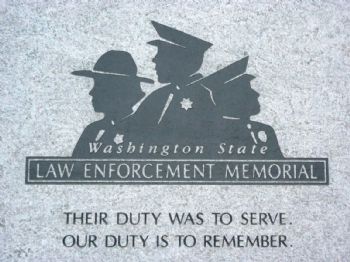 Located on the Washington state Capitol Campus in the shadow of the Temple of Justice and looking north to Heritage Park and Puget Sound, the Washington State Law Enforcement Memorial (WSLEM) is a lasting tribute to law enforcement officers who continue to give their lives in the line of duty. It is a place for survivors to remember their loved ones. It is a place for the public to reflect on the sacrifices made to protect them and marvel at the beauty of the setting overlooking Capitol Lake and the Puget Sound and Olympic Mountains beyond.