Friday, May 03, 2013
I was just reading an article about how activists in my county are trying to get residents not to buy single-serve water bottles. Apparently, 83% of the bottles do NOT get recycled.
The article also said that the market on water is growing, while soft drink sales are declining. I find this completely fascinating, in part because I am part of a larger trend. Last year sometime I decided that I would stop drinking Diet Coke regularly. I never drank a ton of it, but I would have a 20 oz bottle here or there, maybe once a week. At first I had huge cravings for it -- it goes really well with certain foods (like tacos!). I will still have it very occasionally, but when I do I often find that it clashes with my meal instead of complimenting it. Water tastes good with everything!
There is also a movement against "sugar-sweetened beverages." This is a public health group and the goal is to reduce the amount of sodas, sweet teas, and other high-calorie drinks that encourage obesity. Interestingly, the SSB folks do not include diet drinks in their messaging.
I have my water bottle, which I take with me everywhere.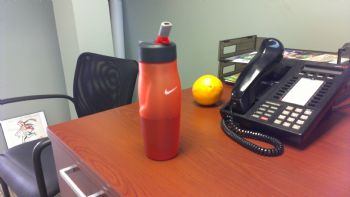 The most important feature of my water bottle is the straw!
What is your drink of choice?