Friday, May 03, 2013
I decided to jump on the bandwagon and do the 30 day squat challenge. I've been working in more calisthenic exercises throughout the day and I figured this would be the perfect addition, especially with a beach trip coming up. I started yesterday on day 2 so that it would line up with the date.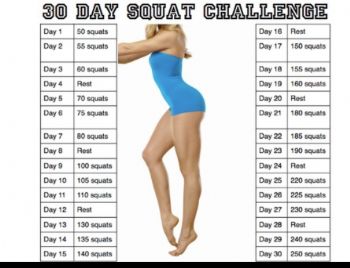 I've also joined a group called Challenge Warriors on SP where I will be following an exercise schedule. I will be modifying that schedule slightly since I don't go to the gym very often (probably dropping our membership soon). It involves days with steady state cardio, intervals and then different days to work different muscle groups. I'm excited to join the challenge and really push myself further with exercise. I do well when I am in a group of people who are really motivating each other.
I was in a bodyrock challenge group last summer, and really liked sharing results and motivating each other in the group.
Plans for this weekend:
Today: Legs/shoulders/abs (including my squats :)
Saturday: run with J (will work in some intervals)
Sunday: Yoga video and probably abs