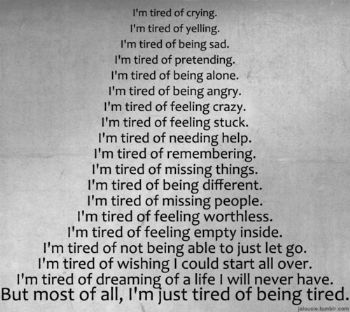 Mocha had gotton so that the nights I had him (when Chuck was going to have to go into work early the next day), that Mocha slept well in his crate. But, last night he tossed and turned, and flipped, and made lots of noise like he used to. I think this is because Chuck went against my wishes, and has no longer been having him crated at night; I think this has been going on the last week or two. And so once again Mocha fights being in the crate at night. SO, last night Mocha kept me awake until 2 am, and then he only allowed me 'cat naps' until 4 am, when he finally settled down. And I had to get up at 9 am. So, I only got 5 hours actual sleep.
I am really discouraged right now. The last couple of days the STRESS has been high. I could deal with arranging contractors to come do bids for siding, home repair guys for a wall air conditioner install, finding the right air conditioner to buy, arranging for an electrician to install a separate circuit and plug in for the air conditioner, looking at siding samples and making the decisions. Yes, this stuff adds a certain amount of stress to life, but I can get through it all 'step by step'. BUT I CANNOT DEAL WITH THE STRESS AND SLEEP DEPRIVATION CAUSED BY CHUCK!
Today, due to the sleep deprivation and STRESS from Chuck, my nerves are a wreck. I am exhausted beyond measure. I feel like giving up on my plan to take back my life, and to lose weight. BUT, I CAN'T, AND I WON'T GIVE UP!
Chuck is always as much of a pain as he can be, but for some reason he really starts amping it up in the spring, and it goes on all summer until freeze-up. He says that the reason for that is because he is just "burnt out" cause it has been a year since any vacation time. But, then what's the reason this spring. His job gave him a whole extra 2 weeks vacation this past winter, to take a day at a time whenever he wished (and he will still get his normal 2 weeks vacation this summer too). That gave him the opportunity to rest up here and there all winter. So, the real reason he is doing it is because of the evil inside him.
My father always got energy in the spring and summer, and that is when he had more energy to act out his evil on everybody around him. I think he had undiagnosed 'Seasonal Affective Disorder', and when he started being able to get out in the sun, it chased away his lethargy and so he was then able to 'act out' the evil that was within him (his psychopathy) . But with Chuck, I really don't know why he does his worst evil in the warm months. He is a pretty energetic person year round, so he doesn't seem like he has "S.A.D."
Maybe what Chuck is reacting to is that in the late winter I start pulling out of (my) "S.A.D.", and I start really working on improving my life, taking weight off, and of course, getting out and about more. Maybe it is those things setting him off in the warm months. Cause I am improving myself, and he cannot stand me to grow! Because then I may get out of his grasp or control. SO, he is triggered to undermine me in any way he can; by sleep deprivation, by arguments, by harassment, by beating me down with stress. And, he is really successful at this because it is a continual onslaught. Even though the last few years I have been standing up to him, he does succeed at making the warm months PRETTY MUCH TOTAL H#LL FOR ME! And, by fall he has me totally emotionally and physically worn out, depressed and angry. And almost 'broken'.
He keeps insisting "I give him another chance." Geez, how many chances has he had? To him 'another chance' is just another opportunity for him to manipulate, twist the knife, con, create chaos, and destroy my life more than he already has.
The past couple of springs/summers, when he started making my life H#LL, I cut virtually all contact with him. And, then he goes around town and plays "what a poor guy he is putting up with the likes of me, that I have cost him everything with this house, and that I am going out picking up everything that walks". And there are a lot of stupid people that fall for his cr#p, and then when I go out in public I get a whole lot of hostility from people who feel SO sorry for Chuck, and think I am an evil woman.
It really bugs me when Chuck has the gall to tell people I am picking men up, when, first of all it's not true, and secondly there is virtually nothing I could do could even begin to compare to what he did, if I chose to do anything that he accuses me of. So where does he get off smearing me, when he is a monster? No. He smears me to cover what he did. Thirdly, he made our marriage almost a totally sexless marriage from the very start because if it wasn't about power or abuse - or chasing someone else - then he didn't want it. One of the guys around town told me Chuck was gay, but if he is he is really closeted. I have no prejudice against gays, but I do have major issues about the types of things Chuck has done (that I know about). I am pretty sure there are still lots of things that Chuck has done that I don't know about (just from the amount of evil things I have learned he has done.) Like Dr. Phil says, "For everything you know about, there's 10 things you don't know about. And, I'm sure that is (multiplied) for a sociopath.
Chuck doesn't only do this smear campaign with me. ONE exaample: One day not long ago he came home and told me someone we know is prostituting herself. I asked him how he would know that? He said, "Because she visits with a lot of guys she waits on as a clerk, and the other evening a guy offered her a ride home from work, and they went in the opposite direction of where she lives, they went out and parked on a gravel road north of town, and it was a couple of hours later when he took her back home. WELL, first off, how would he know every move this young lady made over a couple of hours, and even if she was doing what he 'ASSUMES' she was doing, what business of it is his? And, being all the truly evil things he has done, how dare he get all judgemental and condemning about what someone else has done, (and get all self-righteous and pious when he has done the most evil of deeds himself)? Before he starts judging and smearing others he should look at his own truly horrendous deeds. NO CAN DO! As a good sociopath, everything he does is fine (even if it is unfair to others and one sided) he has a good reason for it, or is excusable for some reason (even if it is irrational), and everybody in his world will either be used for the sociopaths own purposes, or condemned.
I am not giving Chuck extra chances. He will get no contact with me in the evenings. His contact with Mocha will be seriously reduced; and if he doesn't cool his jets, then serious cuts in contact will again come into play, as has the last couple of summers. If he wants to 'make war' again this summer, then he better be prepared for the consequences.
The next 2 days I have to be around him a lot for this housing stuff. I am going to get through them the best I can. I am not going to hold myself to my plan for the next couple of days, nor beat myself up for eating 'off plan'. By Monday I will be back on plan - hopefully with not too much damage done…