These meatballs are juicy, spicy and easy to make. You could adjust the spices to suit your own taste buds. I have created them tonight for dinner. I had 3...

Enjoy!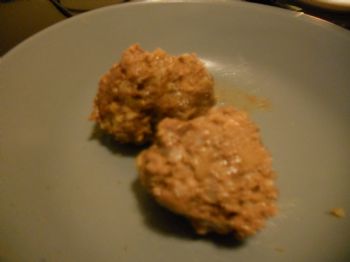 Ingredients:
Ground beef, lean, 300 grams
Onions, raw, 2 tbsp chopped
Kellog's Honey Crunch Corn Flakes Cereal, 15 grams, crushed
Garlic, 3 clove, minced
Honey Mustard dressing, 1 tablespoon
Lea & Perrins Worcester Sauce, 1 tsp
Pepper, red or cayenne, 0.5 tsp
Coriander, 0.25 tsp
Cumin, 0.25 tsp
Salt, 0.8 tsp
Pepper, black, 0.1 tsp
Milk, 2%, 45 mL, 3 tablespoons
Olive Oil, 1 tsp
St. Dalfour, Mango and pineapple jam, 1 tbsp
water, 50 ml
ketchup, 1 tablespoon
Directions
1) Sautee onion and garlic in 50 ml of water for 2 minutes over low heat on the hob.
2) Add spices, salt and pepper and worcester sauce and reduce till most of the water has evaporated.
3) Add cornflakes to mince and add onion mixture.
4) Add jam, milk, ketchup and honey mustard dressing.
5) Mix lightly with a fork till mixtures is combined.
6) Form 5 meat balls by lightly rolling mixture from one hand to the other.
7) Use a microwave or glass dish with a lid and cover bottom with 50 ml of water and olive oil.
8) Place meatballs in water and oil mixture and cover with lid.
9) Microwave on high for 9 minutes and leave to stand for another 5 minutes.
10) Serve with rice or a salad (not includeed in nutritional information).
Nutritional Info
Servings Per Recipe: 5
Amount Per Serving:
Calories: 211.5
Total Fat: 13.6 g
Cholesterol: 45.8 mg
Sodium: 501.7 mg
Total Carbs: 8.2 g
Dietary Fiber: 0.3 g
Protein: 11.4 g