Yesterday I did my first two-a-day, and I feel great! Went spinning during my lunch break at work. I love love love working out in the middle of the day. When I get back to my desk I feel so refreshed, even though my hair and makeup are a mess!
On my way home from work I was reflecting on how healthful my eating has been for the last 2 days, and how I was starting feel normal again. Then the minute I walked in the door I abruptly ate the rest of my calorie budget in honey roasted peanuts and strawberry frozen yogurt. Womp womp.
But... then I dressed out once more and went to Flaunt! class. It was the first one of the month, so the instructor did a new routine that was creative to say the least. The prop we used were--get this-- paper plates. When she handed them to me I was like "how in the world is this going to be sexy?" Well we actually stood on them in our bare feet, slid out to a squat, then brought it back in. Yowch! Then we went back into lunges, slid it back in. Then one track we were on our knees, plates under our hands and slid out to our tummies (hooooly abs!), brought it around to our rib cage and tricep push-up to the top..repeat repeat repeat. I REALLY like that class. It feel so empowering to around all women and let your naughty side come out, all the while picking up a few new tricks. Yesterday I discovered there's a studio downtown that does "alternative fitness" like barre, chair dancing, pole dancing, and something called parkour--still not exactly sure what that is. So I bought a 5-class pass and will be trying out barre on Saturday and chair dancing on Monday. Will probably try intro to pole next weekend.. to be honest I'm more than a little nervous. Has anyone else tried it?
On the agenda for today is to get in a 3-mile run during lunch break plus 55 assisted squats. Then belly dance class (the sub-par class at my gym that just does shimmy drills rather than actual choreography) after work.
Speaking of squats, let's talk about the bane of my existence. So new BF is a crossfit instructor, so he knows a thing or two about squats. I have apparently been doing them WRONG my entire life, and now we're working to get them corrected. It's a sore spot for me, because I thought being in decent shape that I could perform such a basic exercise as an air squat. But when I do them "his" way I fall on my butt every time. It's the most frustrating thing I've ever done in my life, and pretty embarrassing.
Allow me to illustrate...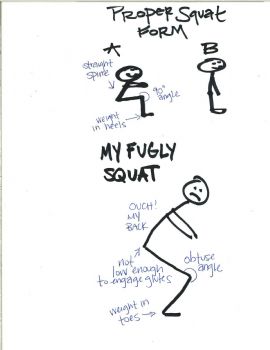 Why not just put my weight in my heels? Just go deeper into the movement? Keep my back straight and look up?
I ask myself the same questions. How come I can't do these things without falling on my butt? I felt like the worst exerciser in America until I went to a "boot camp" class the other day. Mine were definitely NOT the worst squats, and even the instructor's squats didn't look anywhere as good as BF's. So I'm comparing myself to perfection.
I still want a big tight plump booty like his though. And his quads are insane. So in the meantime I'm doing an "assisted squat". I just hold on to a pole or table in the deepest part to keep my form correct, then let go while I push up to standing. I think it's working because I can actually feel my butt engage and my muscles in my shins start to burn.
So I'm in squat therapy. Step one is admitting you have a problem, so I'm already on the road to recovery.