A Day in the Life of My Belly- Day 1
Tuesday, April 30, 2013
Hi Everyone!!! Take a look at what I ate today! It was all very yummy!!!
Breakfast
-A cup of Corn Flakes
-A cup of Soymilk
-1 slice of Saralee 45 Cal Multigrain Bread with 1 tbsp of Lotus Spread
-1 medium apple
- Coffee with 1/2 cup of 2% of milk
- My One a Day Multivitamin. I just got it yesterday!!!
Lunch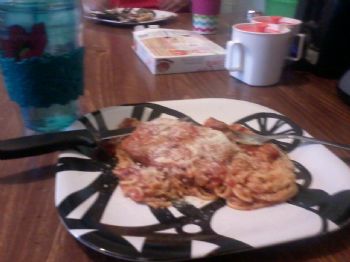 -Lean Cuisine Chicken Parmesan
-1 tbsp of grated Parmesan
Dinner
-3 chicken strips(1/2 a chicken breast)
-1 cup of brown rice with corn
-2 cups of California Vegetable Blend
For desert I'm planing on having a Yoplait Yogurt Light. I'm sure you don't need a picture of that lol
That's it for now peeps. Until tomorrow!!!!