everything is looking great
Tuesday, April 30, 2013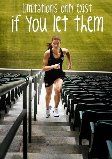 i am feeling great!!
i joined the ymca again. gonna go to kettlebell class tmr. meanwhile, i went for a 2.6 mile walk today with my dog. she got tired, so i had to pick her up part of time. but we did great for the most part.
i have been eating and staying in my calorie range. no after bed eating for several days. the scale has been going down. i knew that was my main problem.
i still have to blog about my goals-both short, med, and longterm.
everyone have a really great day!!