The end of an era
Monday, April 29, 2013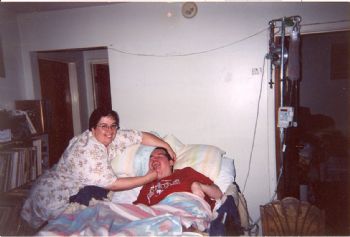 For those who don't already know, my son Frank was hit by a pickup truck when he was 2 1/2 and left totally disabled. He's completely helpless; in fact, he can barely talk any more. My ex and I split up when Frank was nine and he stayed with his dad because I couldn't give him the physical care he needs (besides, when he was an adolescent I thought it would be psychologically better to get the total-body care he needed from his dad instead of me). They've lived together ever since
Whatever problems my ex and I had with each other, he's always taken great care of Frank. I can forgive whatever happened to me as long as Frank was cared for.
My ex and I are both over 60 now and we both have health issues. It's finally time to find a situation for Frank where he's safe and comfortable, because we won't be able to care for him much longer. Besides, if anything happens to ex, it could be very dangerous for Frank. We agreed that he needs to be settled before that becomes an issue.
Ex is working with local agencies for the disabled to find him a new home. I've told him that as soon as he has a name and address, to let me know so I can Google to check their reputation and standing with the Better Business Bureau.
There are people who are going to revile us for doing this. But for Frank's comfort and safety, it's really the only choice we can make at this point.