Something so surprising happened to me recently that I thought it was worth sharing. My hope is that it will encourage some of you.
While I haven't reached my goal weight yet, I have lost a significant amount of weight. Like many of you, I have been reluctant to buy anything new to wear during the process of losing. I have not wanted to spend money on clothes that I will only wear for a short time. So for the past 10 months I have 'made do' with what I had in the closet. I work from home so nobody sees me anyway on most days.
Lately, with my clothes feeling baggier than ever, I have been struggling to find anything to wear when I have to go out. I know my clothes aren't fitting well and that has made me feel extra frumpy. Also, very few people have seemed to notice my weight loss, which has had me feeling discouraged and down on myself. After all, I have lost almost 50 pounds. I admit, I am still very overweight, but surely I must look better than I did before! Right?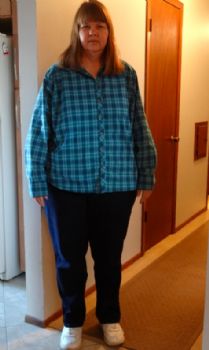 At any rate, I have some events coming up and finally broke down and went shopping for a couple decent fitting tops to get me through the summer. I have some smaller everyday tops, but nothing nice. I haven't been able to find what I want at the thrift stores. So I went to a local department store and found myself in the dressing room trying on several items 2 sizes down from where I began this journey and everything was fitting! Needless to say, I was pleased. I was finally seeing some changes. I decided to buy a couple of the tops and a new pair of jeans, all on sale, and then put my old clothes back on.
And that is when the surprise happened. I had gotten dressed and saw myself in the mirror. With the memory of properly fitting clothes fresh in my mind, the sight of myself in my old, baggy clothes actually caused me to gasp. I found myself saying aloud, "I look at least 20 pounds heavier!" It was a real eye-opener.
Now, I know why nobody has noticed my weight loss. My old, baggy clothes have been hiding the new improved me. As much as I want to save money, I realize that there is value in spending some money on clothes that actually fit. I feel (dare I say) proud of the progress I have made and wearing the proper size makes me feel like all my months of hard work and discipline are paying off. I think that others will be surprised too at the changes that they will now be able to see in me. At least I hope so! What do you think?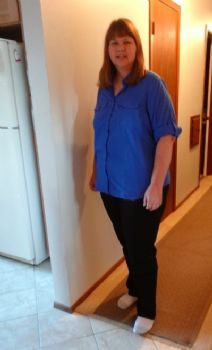 So, if you have dropped sizes and are debating about spending money on clothes that you will not be wearing long, I encourage you to reward yourself with proper fitting clothes along the way. It has been the best thing I have done for my self-esteem since starting this journey.
Oh, and the surprise twist with the before & after photos? Both of these photos were taken on the same day last week, just a few minutes apart. Yep, that's how much difference the right size clothes can make.
I have not reached my goal…yet, but I am well on my way. And I will not quit, because…quitting is not an option.