I need some advice…
My brother is getting married in September. This is his second wedding and it's shaping up to be a much bigger and more elaborate affair than his first. He proposed to his now fiancé while we were all on a family vacation to Hawaii in February. After they got engaged, he and his fiancé asked if I would be in their wedding. My response was less than enthusiastic and quite honestly downright rude. I believe I said something akin to, 'why? So I can have another dress in my closet that I never wear?' I have been a bridesmaid 3 times. Twice for the same bride. Two out of 3 of those weddings have ended in divorce (so far). I had made a promise a long time ago that I was never going to be a bridesmaid again. I don't want to be in another wedding unless I'm the star of the show (and quite honestly, I'm not sure I actually WANT to get married, but since that isn't a looming prospect, I won't worry about that right now. :)
When I made the crack, my headspace at the time was pretty low. Right near rock bottom. I was feeling awful about myself. It was before I started making some changes and feeling a bit better. At the time, I tried to explain to them that I wasn't sure I was really up for it, but I would think about it.
My friends had told me when I got home that I needed to just suck it up, it was my brother. Stop being such a whiner. So when my brother called me a few weeks later to get the final answer, I apologized for my previous behaviour and said that yes, I'd like to be in the wedding but I was concerned about the 'attire' required. There will be 6 bridesmaids in total (between you me and the fence post, I think that's ridiculous but anyway…) and all the bridesmaids are thin(ner) except me. So immediately the opinions started flying around from all these girls about what type of dress to wear. At first, because we all live in various parts of Canada and the U.S. she was going to get us to get a dress from a wedding place – I convinced her we could order them custom-made online for a fraction of the cost. So at least she went with that. Then I suggested that she choose the colour and fabric and we could choose the dress that best suited us. And it seemed this was where she was going with it.
Until today. Today I got an email announcing that the colour was going to be Aquamarine (which for some reason on the website they refer to it as hunter green…but anyway) and that the style she had chosen was this: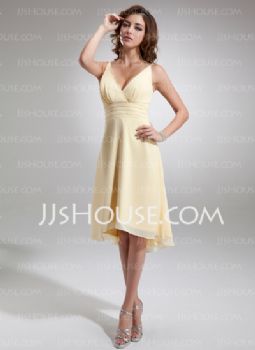 Now, I don't really care what colour it is. I mean, I'd prefer no orange or yellow because I'm a redhead with a pink complexion but other than that, I was fine with anything. So although aquamarine might be on the bottom of my colour choice, it's not my wedding or my colour scheme so it was fine with me. I mean let's be honest here people, the dress is going to be worn once and then hung in the closet with the other 3 for the rest of its natural life. Or until I make it into a pillow case (but now that it's going to be aquamarine, I think it's doomed to the closet). But the choice of dress just about made me cry (and I was at work). I had explained to her previously that I'd really like to have a dress I can wear a bra with and that was long enough to go past my knees. I thought both requests were relatively minor and since she was likely going to let us choose our own dress, I didn't push it. And then this is the dress she chose. This is a lovely dress. But not for me or my body type. I am very 'square' meaning I have no hips being very 'apple shaped' and carry my weight in my stomach and chest and have wide shoulders (daintily decorated with permanent stretch marks which I'm sure will look lovely highlighted by spaghetti straps,ugh) – this dress is not the right cut for my body.
When I asked her innocently, 'so… everyone is wearing the same dress then?' she said yes, she thought this was the best choice because it went past the knees and had straps. Now honey, I don't know about you, but those 'straps' as they're referred to wouldn't hold up a mosquito much less my generous 42DD chest. Which means not only am I now going to have to invest in an industrial strength strapless bra that probably costs more than the dress itself (and which will also live the rest of its natural life in the closet), it will make no difference because the back fat will roll nicely over the shoulderblade-high back and strain those dainty little straps anyway. And I'm not sure if she's blind (I sure hope not because she's a surgeon...lol) but that dress does not go below the knee. It does in the back, but not in the front. I certainly have plans and am making efforts to be in much better shape and thinner by September. But I'm not going to be a size 2 (ever, actually, lol).
So if I wear this dress, I will spend the entire evening hiking up my strapless bra, trying not to let my boobs escape their flimsy covering and ensuring my legs are stuck together tighter than a frigid librarian so I'm not flashing the audience as we sit at the head table.
And I can't blame her – I know she's trying to please 6 different women with 6 different bodies. And 6 different types of body issues too quite honestly. This is one of the top reasons why I didn't really want to be another bridesmaid. Having done it 3 times, I KNEW what she was going to get herself into and how difficult it was. She was incredibly naïve when she was first discussing how 'easy' it would be to get the girls outfitted. I bit my tongue at the time. This is her wedding, I don't want to be a spoil sport more than I already have.
So what do I do now? I don't want to wear that dress!!! She had told me she wanted us all to feel beautiful and happy and comfortable on her wedding day. If I wear that dress I'm going to be miserable, self conscious and uncomfortable all evening. There is a chance one of the groomsmen is not going to be able to make it, they don't know yet. When I heard that previously, I said well, I'd be ok if you wanted me to step down. But now I'm thinking maybe I should just tell her that I think it's a lovely dress but I really can't wear something like that. And I don't want to cause issues so I'll step aside and just attend the wedding instead. It might solve the problem with the other groomsman maybe not being able to come. But I'm scared that by doing that I'll offend her and my brother. Or they'll feel guilty. Or they'll scramble to change things again.
So what do I do? Do I just suck it up and order the damn dress?