Well, I was prepared to come on here and write a self-harming blog about how I totally had a BLAH weekend when it came to tracking food and fitness, but this morning I got my ass in gear and now I don't feel as bad.

I even reflected on the weekend and there were some good moments. At a friend's son's birthday party I intentionally moved a platter of cupcakes away from me and moved the veggie tray closer. On Sunday, the bishop visited our church and we were formally recieved into the Episcopalian church, which was very inspirational and fun as well. I got to spend more time with my mom this weekend because she rearranged the house a bit to make a more comfortable living room area that can hold more people, and we tried not to criticize each other over Caley and what to do and what not to do.

So, despite the lack of tracking, I did NOT fall entirely off the wagon and did not let it set me behind, because when I woke up this morning, I took the kiddo to the gym and walked for an hour on the treadmill. I almost gave up 30 mins in, but just pushed right on through.

I still feel SO incredibly self conscience every time I go there (and I am sure I would even if I were wearing the proper attire), but I just try not to look around at everyone, satisfied that at least I am there TRYING to work out at my own level. My daughter loves that kids room too much and we are paying too much for me to let that get me down.

In addition, somewhere in that walk, (right about the time I get SOOO BORED) there was a brief moment where I felt like I wasn't even enjoying myself so, why continue? But, I read some sections of The Spark, more notably the entire section about MENTAL HEALTH, which I forgot was even in that book. Some things written, especially the names we call ourselves, rings pretty true. I teared up a bit about how much I do beat myself up.

After the gym, my daughter and I went to the grocery store and bought some fruit and veggies. There was this lovely pre-selected tray with grapes, pineapple, 1 strawberry, broccoli, cauliflower, celery sticks, and some cubes of cheese, which I shared with my daughter.
Then it was off to swim lessons. This week is our last week of swimming, which is sad. I've grown fond of the older instructor who was yelling at me the first week that I wasn't holding my daughter right, so "of course she feels uncomfortable!" Caley is beginning to like her too, no longer seeing her as the lady who makes her give back the diving toys. She won't be teaching this summer, shes going to visit her grandkids (good for her!) I just hope the next instructor is that much fun too.
Now that we are home, I am trying to talk my daughter "quiet time" but its not working too well. So, that's all for now! Let me go see what the big hoopla is.


P.S. Several people have inquired about my SIL and her premature baby. I have a pic for you. We usually get one a day on Facebook, but this one takes the cake!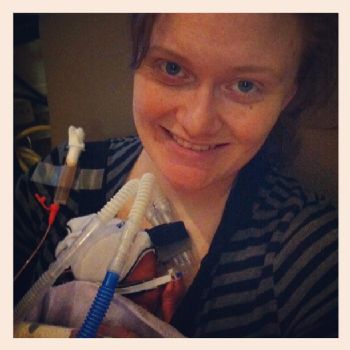 This is when she got to hold baby Freya for the first time. I think her smile says it all.
Thanks for the continued prayers and good wishes.