WINNER WINNER CHICKEN DINNER! WE DID IT! I'm so excited because this morning I found out that my
SparkPeople: Total Body Sculpting
DVD took the top honor in the
Home Media Magazine Awards
. It won the popular vote and was named "Best Fitness Disc" of 2012, beating other very serious contenders like Rodney Yee, Denise Austin and Jane Fonda. Thank YOU so much for turning out the vote to help us receive this honor and for Spreading the Spark far and wide thanks to this award!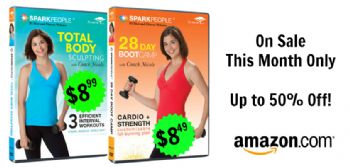 In related news, I wanted to give everyone here a heads up that two sales on this DVD (and the previous year's '28 Day Boot Camp') are about to close. BUT through
April 30
you can save big on both of these titles. Amazon.com has slashed the price of both DVDs by 50% only through the end of the month (
click here
to find Total Body Sculpting), and Acacia, who produced and distributes our DVD, has both titles on sale for only $5 through the end of the month
right here
. While these titles together won't quality you for free shipping on amazon (you could always get something else to make up the difference, such as
SparkPeople's new book
, which releases May 7 but is already available for pre-order). Acacia.com does charge shipping, but one member pointed out to me that it still works out to just $8 per title when you buy both and pay for shipping. Still an awesome deal!
Lastly, I wanted to let you know that my friends at SkinnyMom.com invited me to be one of the star trainers in a 14-Day Slim Down workout challenge! If you sign up on their website, you'll get the workouts and recipes via email and be entered for a $500 cash prize. If you want a little motivation and workout jump-start, this could be just the challenge for you. May 6-May 19 are the challenge dates, but you can sign up in advance right here:
skinnymom.com/sta
r-studded-slim-down/
As always, thanks to everyone for all of your support, nice comments, DVD reviews, votes--and everything. It means so much to me and to SparkPeople.
Pssssst...more big news: We're filming a new DVD this June, and I'm listening to all of your feedback from the previous two when creating this one. Stay tuned!
Coach Nicole