Confession: I read other people's blogs about their at-home projects and I despair of ever being that kind of person... I rather suspect that some of my neighbors would like to toss me out of suburbia for offenses such as this one -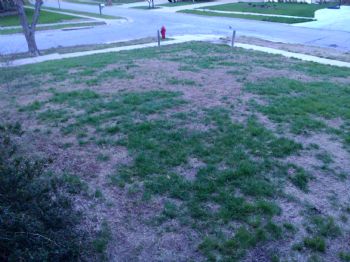 Yes, my yard. It's had seed spread, but I do not have operational underground sprinklers, and most of the neighborhood do. I can almost feel them sniffing as they walk their dogs or themselves by. In fact, last night as I was out hauling hose and trying to wet it down... a couple walked by and made some polite comment about whether I was "going to have to reseed". Obviously they could not tell I already had that done... nothing is happening yet.
Sigh. I rather suspect it's going to be mega bucks to get the sprinkler system "fixed". But on Friday someone is coming out to look at it.
The good news is that KALIGIRL has seen my horrible lawn and is STILL willing to go do stuff with me... so as I am not the number on the scale, I am also not the state of my lawn.
I read somewhere that some of third world descent had gone to college in Colorado, looked at all the water being spent to grow grass lawns and called it obscene. I'm afraid I have a bit of that attitude in me. We're not quite past the drought yet. And I hate "wasting" water on grass. Sorry, just an attitude I have... rebel in the heart.
'Nuff of that... on to the pep talk - it's Monday, so back to work:
1) Remember to breathe.
2) Drink your water.
3) The candy bar in the vending machine will not make the demands of the project go away.
4) Eat what's in the bag... it's good for you, and that's why you packed it.
5) And Remember to take those break walks, even if not at the "normal" time!
BECAUSE - You're worth taking care of!
and... only 6 days to the Half Marathon!


LIFE is good. Spark on.