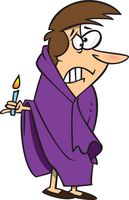 I was awakened at 5:00 this morning by a fox screaming. I knew it was a fox because it was so high pitched and there was no "barking" in between like I think a dog would make, just a cry. It was starting to rain; today is going to be a dreary day.
I live on a peninsula, surrounded on three sides by water, we're at the end of our development and "out" front and to the right is a major, wild, state park. I'm also near an empty endpoint of a military installation; boating we're not allowed within 200 yards of their shore and they're close, "out" left.
So I'm listening to this wild cry, wondering if the fox is hurt or has found a duck's nest and was celebrating breakfast or is just frustrated at the rain and its own business. I remembered camping when we use to sleep on our mattress in the open back end of our van and looking out and my husband asking softly if I had seen the fox earlier. The idea of something wild, so close to me in the open van did not make me feel very warm and cozy.
So, here I am this morning in my modern, warm, snug home, my husband commenting that our roof appears to "work" and I start wondering about my great grandparents, most born in the mid-1850's. Several of them lived in wilderness situations and I wondered how women did that in colonial days, slept and had babies with so much wildness around and being much more isolated and not being able to flick a switch and turn on a light or pick up a phone or computer and call for help if they needed it or run "next door".
I did get back to sleep but was awakened again by a dream of a storm bearing down on my husband and myself, each in our own "cars" moving fast down into a valley that was being taken over by the blackness in front of us. I "radioed" to my husband, asked him if he was seeing it; we were moving so fast and I had the task of also trying to copy down, longhand, what each of the billboards flying by said :-) Anyway, suddenly I was grabbed by an updraft and pulled way up in the air like a crazy ride and then was falling. My stomach had that tickling sensation you get in such situations, that lifting falling, "Whoa!" feeling? It was only then that I noticed what was happening and how high I was and how far I was falling and realized that I was in my own semi-flying car and it should not be that susceptible to such treatments and looking at the darkness ahead, knew it could get much worse and I could be thoughtlessly thrown about and smashed; this was no ride. The last thing I saw before I woke again was the wall of gray "mist" in front where the storm had arrived and toward which I was hurdling and realized my husband was already in it.