Monday, April 29, 2013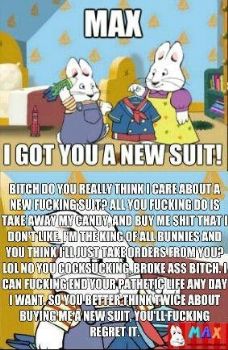 Ok, this is not exactly beauty or anything, but OMG, I laughed so hard!
Ruby: Max, I got you a new suit!
Max: B!tch, do you really think I care about a new fu*king suit? All you f*cking do is take away all my candy, and buy me sh!t I don't even like. I'm the king of all bunnies and you think I'll just take orders from you? LOL, no you c*cksucking, broke a$$ b*tch. I can f*cking end your pathetic life any day I want. So you better think twice about buying me a new suit, you'll f*cking regret it."
P.S. : Sorry about the language, but it was so funny! I could not resist posting it " All you do is take away my candy...." I burst out at that part.
I found it on the internet I did not make it!