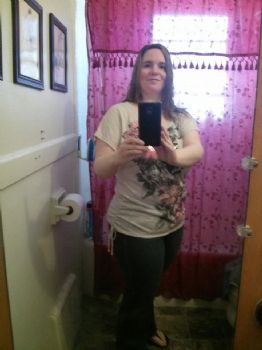 (Me, down 18 lbs and 2-3 clothing sizes)
I decided today that I am taking an impromptu, month-long vacation. "Where are you going?" you might ask. The question is not "Where?," but "From what?"
My name is Lisa and I am scale-obsessed. I not only weigh myself daily, sometimes I weigh myself 3-4 times per day. Yes, I have weight to lose and it's good to know if what I'm doing is working, but that number on the scale is not necessarily the best indicator of my progress. My analytical/logical nature recognizes this truth, but the emotional part of me has trouble not basing my mood, my feelings of success/failure. and my self-worth on that number.
My desire to lose weight and increase my activity is mostly driven by my desire to remain mobile and fight this nasty thing that is Multiple Sclerosis (MS). I work out with a personal trainer at my physical therapy clinic three days per week and work out on my own at home an additional three days per week. Because strength training is the focus of most of my workouts to maintain mobility and minimize muscle loss, my weight loss has felt interminable. My weight loss has actually been in the healthy and sustainable range, but I have discovered that I don't like being in transition. I hate that this journey is a "process." I want to go from A to Z all at once, but I know that is not realistic.
For a short time, I need to focus on what what I have accomplished rather than what I see (or don't) on the scale. Despite what the scale says, my body is changing in a positive way. I am stronger and have greater endurance than I've had in years. Though it seems counter-intuitive, my MS-related muscle spasms and cramping have decreased dramatically. My "butt shelf" will now only hold a small plate rather than a large tray and I recently bought some new clothes, most of which are 3 sizes down from what I wore at the beginning of this year. None of them came off of the "plus size" racks and most of them don't even have an "X" in front of the "L."

My dear scale, it is time for me to focus on the positive changes I've made and not fret about what's to come, so I am proposing, no, demanding, a separation. Not indefinitely, but for a time. We shall meet again, but not until next month.